The RV EDU portfolio has over 16 high-trafficked sites under its umbrella. Of these sites, two sites, the flagship site, BestColleges.com, and start-up like web-based app, Lantern, comprise the majority of team resourcing. The RV EDU UX research team is responsible for conducting both small and large-scale research across the portfolio.
| SKILLS |  
Operations | Management | UX Strategy| UX Research | Performance Metrics Analysis | Cross-functional Collaboration | Process Iteration
| SCOPE OF WORK |  
As the RV EDU strategy shifted to optimize two primary sites, a need grew to consolidate the variety of structured, guerilla, formal, and informal research conducted across the portfolio. As the Director of Content Design and UX Research, my new task was to wrangle the overarching research strategy for the portfolio. This work required me to conduct several interviews with business leaders and SMEs internal and external to RV to form a new plan for strategy. 
With vague direction, my first step was to read on ways to tackle road mapping and planning large-scale research initiatives with limited resources. I used books like Building User Research Teams and The User Experience Team of One to establish a framework. I scheduled need-finding interviews with business leaders for all major sites and products across the RV EDU portfolio. During these sessions, I learned the problems facing our leaders, the need to conduct research without capacity from the EDU UXR team, the need to know more about our audience at any cost, and the need to test new experiences with plummeting key metrics. I also interviewed 5 internernal marketing and UX research lead and 2 external Directors of Content Design and UX Research. From this, I was able to identitfy three areas that needed solutioning: 1.) UXR advocacy at the senior leadership level 2.) Deep segmentation work to discover the psychographics of our users 3.) Scalability and process. 

The following solutions were brainstormed and proposed to the greater UXR and creative teams. We aligned on creating a new process for requesting and conducting UX research, proposing a segmentation study to senior leadership, and creating a larger UXR roadmap.  
The first order of business was to gain senior leadership buy-in for segmentation work. The process included sending a RFP to potential vendors, reviewing proposals, and sorting down to two potential vendors to present to senior leadership for approval.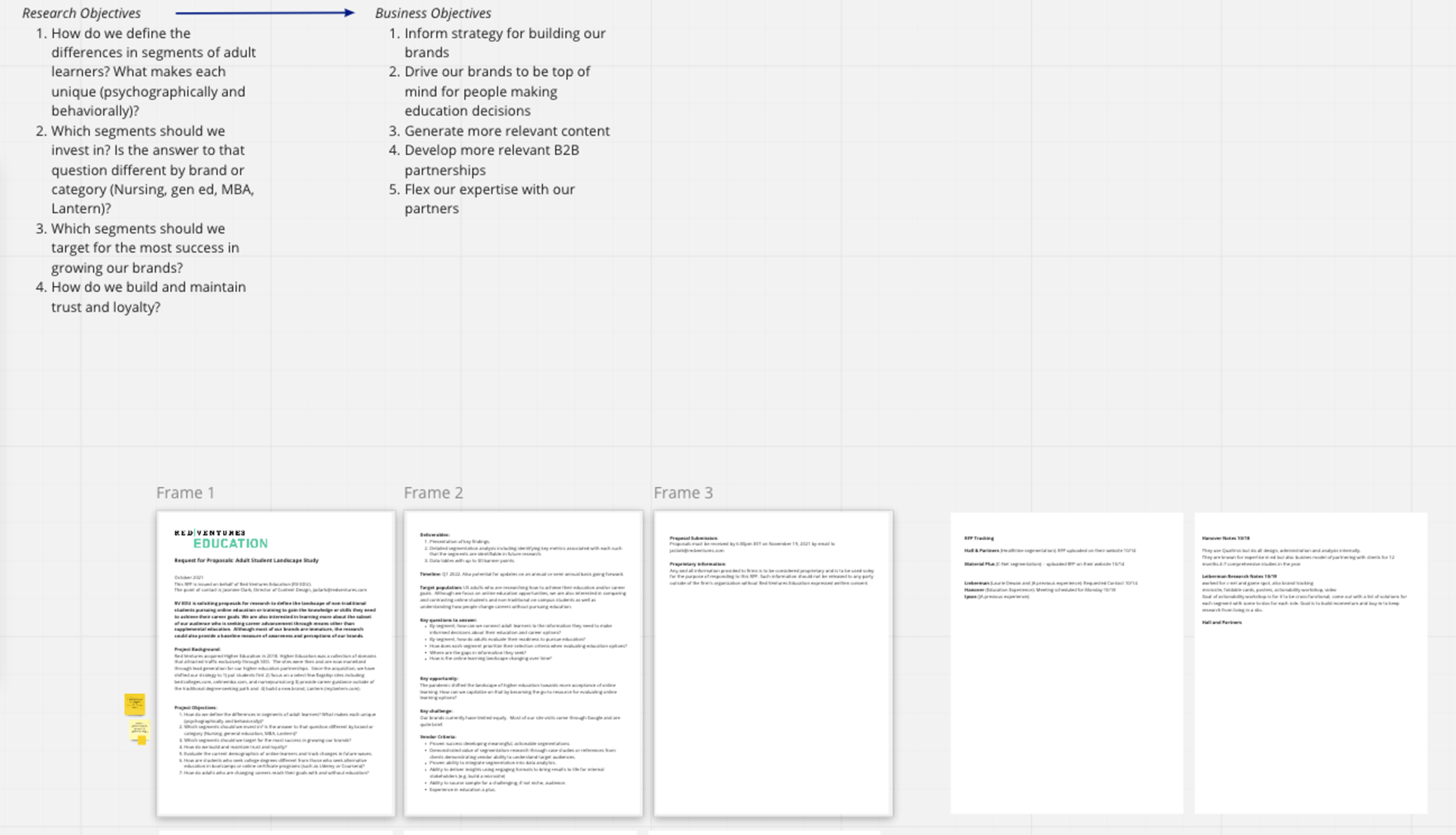 | RESULTS |  
This work is still ongoing. I'd love to chat more about our current status on this initiative in conversation. 
​​​​​​​| WHY YOU SHOULD CARE |  
For my newly extended scope of UXR, I was told one sentence. From this, I researched and formulated a plan to identify gaps in our current operations, build out new team structures and processes, and start the work for an industry segmentation study. While this work isn't complete, I feel confident we will continue to move toward alignment on research across the EDU vertical.